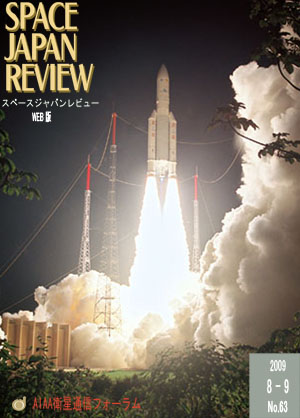 Contents

Cover Page

Launch of SKY Perfect JSAT Corporation's JCSAT-12 by Arian 5 rocket (Courtesy by SKY Perfect JSAT Corp.)
Space Japan Milestone (in Japanese)
Successful Launch of the SKY Perfect JSAT's JCSAT-12 Communications Satellite


SKY Perfect JSAT Corporation (Head Office: Minato-ku, Tokyo; President & CEO: Masanori Akiyama) hereby announces the successful launch of the JCSAT-12 communications satellite.
JCSAT-12 was launched from an Arianespace Ariane5 launch vehicle at the Guiana Space Centre, French Guiana, South America at 7:09 a.m. on August 22, 2009 Japan Standard Time. The satellite separated from its launch vehicle at 7:35 a.m., and a signal was received normally at 8:07 a.m.
Satellite Communication and I
A dream comes true
Sky Perfect JSAT Mizuho Aoyagi
"Since I was a girl, my yearning is Space. And since certain point I started to think seriously to become a person who works with Space. One day when I was a senior year high school student, an advertising catalog was in my post. This changed my entire life." Ms. Mizuho Aoyagi, who is working at the Yokohama Satellite Control Center (YSCC) of Sky Perfect JSAT Corp. as one of three female engineers, talked about her experiences and efforts of embarking on her career as a satellite engineer.
Selected Paper (in Japanese)
On J-ALERT (civil protection warning system)
Local Authorities Satellite Communications Organization (LASCOM)
Chiharu Ohuchi and Yasuzumi Izumi

"The civil protection warning system" (J-ALERT) which notifies large-scale disasters, armed attack information and so on was constructed and the operation has started. J-ALERT delivers emergency information to the people via satellite; such as a huge earthquake will be observed or the announcement of evacuation will be issued. This system is expected to reduce the disaster victims and to prevent the further disasters. The overview of J-ALERT, a process of development and examples are described.
Education Corner (in Japanese)
Report on the Experimental Collaborative Remote Lectures with the WINDS/Kizuna Satellite
University of Tsukuba
Shin Takahashi, Makoto Hisanaga, Keisuke Kameyama, Yukio Fukui, Nobuhiko Kitawaki

We report the experiment of collaborative remote lectures with the WINDS/Kizuna satellite held last year. In the experiment, three universities: University of Tsukuba, Asia Institute of Technology in Thai, and Multimedia University in Malaysia, were connected by the satellite. We can utilize the on-satellite switching function and connect these multiple sites directly with one-hop. We have proved multi-site real-time e-learning in Asia is feasible with WINDS.
From Aerospace America (in Japanese)
Navigation Satellite Fuel Payload Growth
by Marco Caceres

"Navigation Satellite Fuel Payload Growth" (translated into Japanese from AIAA Aerospace America, Vol. 47, No. 6, June 2009 with the permission of AIAA) (in Japanese)